In this article, we tell you about a Destination Wedding: a real love elopement.
We already talked about the elopement wedding, a ceremony reserved for a few
close people and today we'll discover together the Destination Wedding.
First of all The Destination Wedding – word by word Destination Wedding, are
weddings organized away from home and their lasting is at least three days.
A meaningful place can be chosen by the couple, as well as a dream destination or
simply a place that fascinates you.

The Destination Wedding is special for many reasons; you will be surrounded only
by the most beloved people and you will have much time to spend together.
In addition, the place of the wedding can be the first step of the honeymoon …as you
can imagine, sharing a trip together with close friends means a bet won in advance!
Indeed, the elopement , typical of the Destination Wedding, has become more and
more popular.
Italy is considered one of the favourite destinations by the couples who live overseas
because this choice allow to join – (in this case we mean staying) places of your
dreams as the beaches in Salento, in Sicily and in Sardinia to places rich in history
such as Rome and Florence, at the end an experience immersed in nature is not
lacking.
A journey to discover Europe can be interesting, romantic and much fun.
As videographers we love filming the Destination Wedding because they are always
romantic and intimate. We are completely buried in an atmosphere full of love and
capturing emotions is our speciality.
The videographer's work , in a Destination Wedding, is telling not only the wedding,
but also the background, the moments before and after the marriage and the most
beautiful moments.
For this reason , the videographer's team always consists of at least two people.
We don't want to lose any moment of your important day. If a videographer films the
entrance of the bride, the colleague will catch the excited expression of the other
half.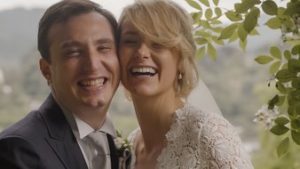 Organizing a Destination Wedding is not necessarily a walk, for this reason, here are
5 suggestions for a perfect Destination Wedding:
1) Choosing carefully the destination of your Wedding;
2) Informing early all the guests because they must get ready;
3) Notifying early the professional people who will support you – If you will choose us
as videographers , you could ask for coming together with you;
4) If you let yourself be supported by a Wedding Planner: He will surely know all the
suppliers of the area and so he will suggest you the most adequate to your
requirements.
5)Remember to live every moment in the best way, up to the organization to the
beginning of the big important day !