Finally the most romantic time of the year has started again , the season which crowns many love dreams and our tale of this year starts with a Wedding Elopement, a romantic getaway in Amalfi.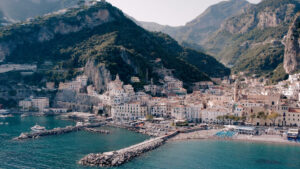 The characters of this story are a Canadian couple who decided to say "Yes, I do " on a hot day in May.
The Elopement Wedding, known in Italy as a romantic getaway is an intimate Wedding but full of meaning. This rite is having great success between the foreign couples but It is spreading more than ever between Neapolitans.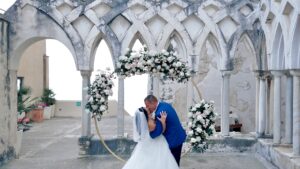 Caylen and Mark chose an Elopement Wedding with Amalfi in the background at NH Collection Grand Hotel Monastery. In this famous luxury hotel, there is a romantic ruined church which was a monastery of friars, exactly in this place we took part in an intimate and exciting rite together with the celebrants, the witnesses and the photographer Alberto Ghiddi.
After the ceremony, together with the newlyweds we enjoyed wandering around the centre of Amalfi and capturing little moments of life which became the background of this romantic day, we took unusual and unique photos.
Elopement Weddings are an increasingly choice and we love to film this intimate and rich event full of meaning. Amalfi is an ideal destination for a romantic rite full of character.
If you are also interested to spend a unique moment like this one, we just leave
here some useful information to add to this link and the suggestion of the best location for an unforgettable day.